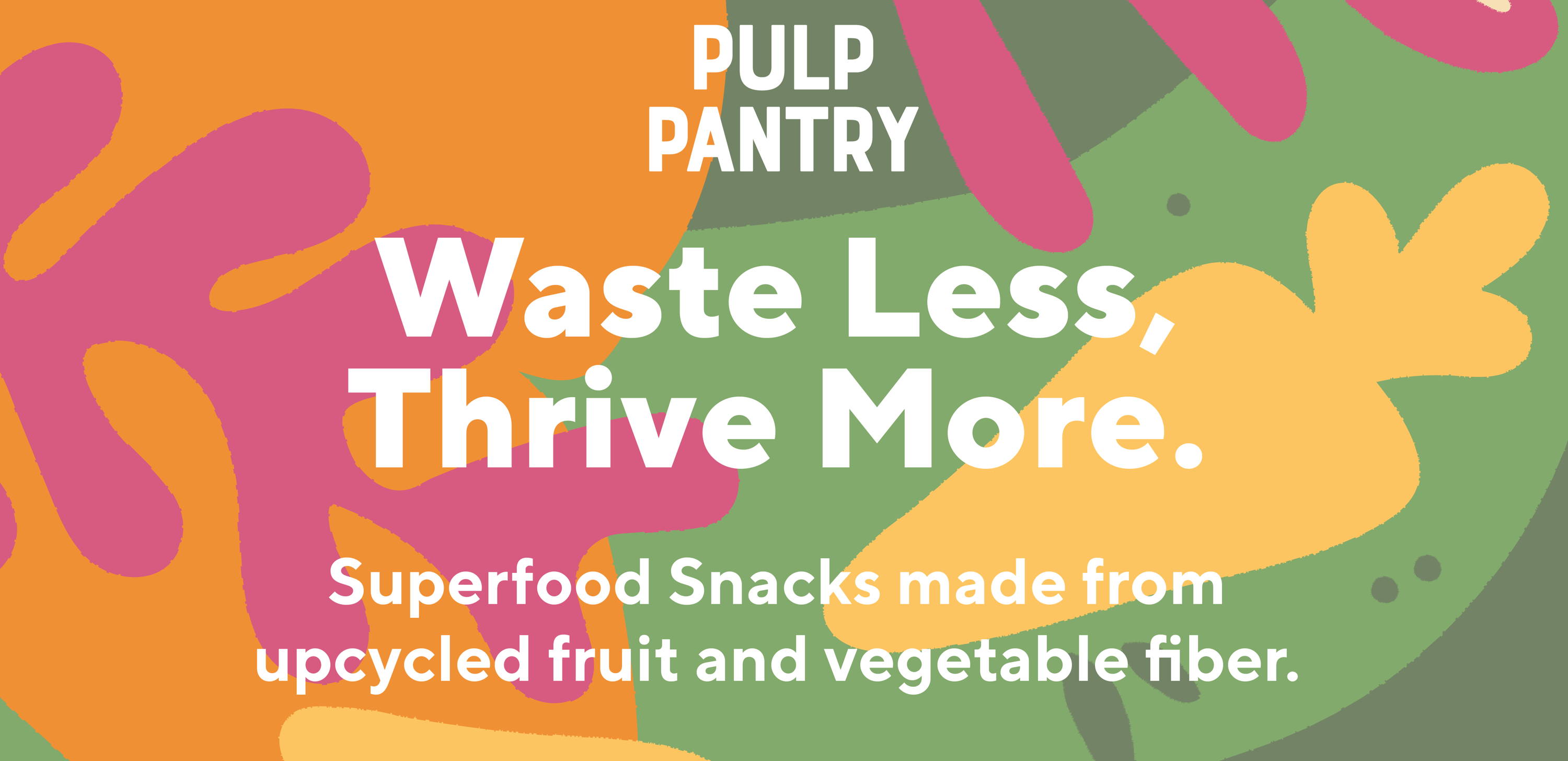 How can this product "contain 50% vegetables"?
We know it sounds crazy but… each of our products is made from 50% upcycled vegetable and pulp! When we make our batches, that means that half of the weight of ingredients we put inside are derived from veggie pulp.
In conclusion: although our snacks might not look like veggies - we're not fooling you. Kale chips got nothin' on us.
What exactly is pulp? And how is pulp made?
Pulp is the healthiest part of the healthiest foods: the fiber of fruits and vegetables. It's a sustainable superfood.
Pulp is made when fruits and vegetables are cold-pressed to produce two parts: juice and the high fiber "pomace:" or, as we call it, "pulp."
On one end of the machine, the juice comes out, and on the other, the pulp. Typically, this resource went neglected after juicing - but it's a nutritional goldmine.
In fact, pulp contains nearly 95% of the fiber, ⅔ less sugar, and ½ the nutrients of whole fresh fruits and vegetables.
Get the prebiotic, digestive benefits of eating your fruits and vegetables without all of the sugar. That's what we're talking about.
Where do you source pulp from?
We love our amazing partners! Project Juice, Little West (previously Clover Juice), Made with Love Wellness, to name a few. Shout out to these brands - they're each women-owned! Thanks to these soulful companies for taking big strides for sustainability by working with us.
What's the nutritional benefit of pulp?
Pulp is 95% of the fiber of whole fresh fruits and vegetables, and contains nearly 2/3 less sugar. It's a carbohydrate that the body can't digest. Fiber helps regulate the body's use of sugars, helping to keep hunger and blood sugar in check. We should be eating 20 to 30 grams of fiber per day for good health, but only 3% of Americans are eating their daily servings. Eating more fiber in your diet can reduce the risk of developing various conditions, including heart disease, diabetes, diverticular disease, and constipation.
There are 2 types of fiber:
Soluble fiber. The kind that dissolves in water, and can help lower glucose levels as well as help lower blood cholesterol. Apples are an example of a soluble fiber source.
Insoluble fiber. This kind does not dissolve in water, but helps move food through your digestive system, promoting regularity and helping prevent constipation. Carrots are a great example!
If you nerd out on this stuff (we do, too), you might enjoy this report.
Are you exclusively organic?
We source organic fruit and vegetable pulp from our suppliers. As a small-batch business, it's something we have the luxury to do - studies show that eating organic is better for you, and for the planet.
We'd like to note that while we prefer to source organic for people and planet, we're also passionate about the accessibility of our products, or making them affordable for everyone. Down the road, as we grow and expand our pulp needs, we may not be able to source exclusively organic any longer. We're eliminating food waste, one veg at a time, and hopefully transforming the industry to make organics accessible to everyone as we grow. But our priorities are clear. We're here to bring fruits and vegetables to the people, first and foremost. And the fact is, most of the U.S. land is used for growing conventional crop (only about 0.8% of cropland is certified organic!).
Are your products gluten-free? Kosher?
As a small biz, we don't have any of the certifications to show for our hard work sourcing quality ingredients you can get behind. One day, we certainly hope to take that on!
Rest assured - we source organic ingredients whenever possible (which is most all of the time), and everything we make is gluten-free. We're not yet certified Kosher but we are plant-based, and produced in a plant-based facility. Let us know if you have any other dietary concerns and we'll be happy to help. Plus, we love to chat all things nutrition and learn about what our community values when it comes to food.
Where do you make your products?
It's pretty magical that we're turning pulp into product. We're still amazed when we see the full process. But indeed, there are real, food-loving people behind each bag of Pulp Pantry snacks; it's not sorcery.
We make our products in small batches right here in sunny Los Angeles, in partnership with a plant-based manufacturer we love. Our test kitchen is Kitchen United in Pasadena, California - just north of Los Angeles.