How to: Not Buy New Clothing
Out with the new, in with the old.

Whether you do it for sustainability or to save some cash, buy used clothing without skimping on style with our list of quick resources, tips and tricks (and favorites!).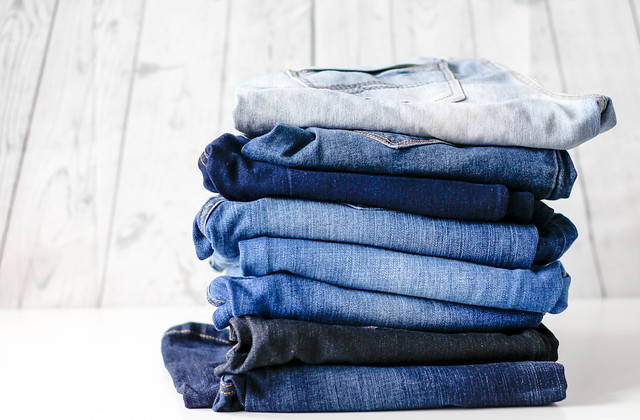 You may have heard that fashion is one of the most polluting industries of our world.
Just one kilogram of fabric generates 23 kilograms of greenhouse gases (via The Wall Street Journal). And consumers today buy 60% more clothing than they did 15 years ago, but keep the items only half as long.
Nearly 60% of more than 100 billion garments produced annually end up in incinerators or landfills within years of being made (via McKinsey & Co.).
It's a shame that an industry that seems more and more like a "nice to have" can lead to such environmental destruction. Perhaps the clothes we wear are one of the lowest-hanging-fruit opportunities when it comes to where we can cut down on our footprint.
Food waste isn't the only thing we're passionate about - we're taking stock of every department of our lives and thinking critically about the footprint of our daily consumption.
In the spirit of wasting less, and thriving more, we're on a mission to buy less new, and buy more used. If you are, too, you're in luck! Here are some of our favorite tools, resources, and sites pioneering the future of thrifting, buying used and recommerce.
Recommerce (Wikipedia): "

Recommerce or reverse commerce, refers to the process of selling previously owned, new or used products, mainly electronic devices or media such as books, through physical or online distribution channels to companies or consumers willing to repair, if necessary, and reuse, recycle or resell them afterwards."
Resources to get you started on your second hand shopping adventures:
In-stores
Great for: trying on the wares without the hassle of returns.
ThredUP's recently announced partnership with Macy's, J.C. Penney allows you to buy resale clothing in stores, Eileen Fisher (sells own-brand resale clothing at a fraction of the price in select locations), Crossroads Trading Co., Wasteland (personal favorite if you're in LA! but a bit pricier), Buffalo Exchange, Goodwill, Salvation Army, your local vintage and thrift store (a quick Google Maps search for thrift or vintage shops will do the trick).
Online & App-Based
Great for: Designer deals! For finding designer, luxe brands at resale prices. High quality clothes at a fraction of the cost. And for selling your unwanted items quickly and conveniently.
Watch out for: knock-offs. Sometimes, long shipping times depending on the reliability of the sender, so confirm shipment will be quick before purchase if you're in a pinch.
The RealReal, Poshmark, Depop, Fashionphile, Rebag, (for designer bags), Vestiaire Collective, Heroine (women's fashion spin-off from menswear brand Grailed), LePrix, thredUP, StockX (sneakers, streetwear), Grailed (mens designer and streetwear).
Other Online, not clothing-specific
Great for: This is what I'd consider the wild wild west of thrifting, but it's great if you're looking for a specific item and want to save some serious cash.
Watch out for: You're going to have to do quite a bit of digging, but will likely find some cheaper goods.
Ebay, LetGo, Facebook marketplace.
Or, rent your clothes!
Great for: never wearing the same thing twice! Fresh styles and looks whenever you want them, without the same environmental cost.
Watch for: expect to pay $50-150 or more per month.
Try Armoire, Rent the Runway, Frank and Oak, which offer monthly rental options.
Or check out NUULY by Urban Outfitters to rent out items of clothing from across the brands that Urban Outfitters owns, like Anthropologie and Free People, and more than 100 third-party brands.
Have you used any of these tools? What did you think?
Have other favorites to add?
Leave us a note in the comments :)
P.s. want more? Sometimes we get lazy… and we pin ideas to our Pinterest instead of writing long-form here. Check out our Upcycled Board or Zero Waste Life for more commentary on the challenges, and solutions, reinventing a world in which we waste less, and thrive more.