DELICIOUS MEETS NUTRITIOUS
More fiber than kale chips, less carbs than potato and tortilla chips. 100% delicious, guaranteed. Dig in!
Grain-free. Gluten-free. Vegan. 5g fiber per serving, under 150 calories.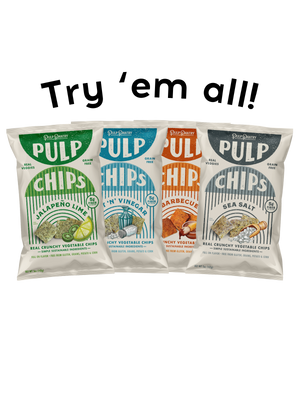 Variety Pack
Craveable and crispy, without compromise. Try all of our best-selling flavors in our variety pack. Shareable, Dippable, Craveable. Enjoy them your way: Pulp Chips are the nutritious chips you'll always want to have on hand!
SHOP Variety Pack
Pulp Pantry Starter Pack
Ships Free! Pulp Chips are THE real veggie chip made from fresh, organic vegetables as the first ingredient. Loaded with fiber and flavor, try all four delicious flavors as seen on Shark Tank in our flavor-packed variety pack. Enjoy free shipping and a 100% happiness guarantee!
SHOP Pulp Pantry Starter Pack