We used our grain-free Pumpkin Pie granola in place of the usual flour-based crust. That means double the pumpkin pie, plus this pie has not one but two (carrots and pumpkin) veggies inside! Wait, is pumpkin a fruit?
What You Need for the Crust:
Crust-making instructions:
Preheat the oven to 350°F (176°C).
In a food processor, pulse 1 cup granola and 1/4 cup sugar until you have fine crumbs. Slowly add in coconut oil, processing until combined. Add in the last 1/2 cup of granola and process until combined but still crumbly.
Transfer the mixture to a 9-inch pie dish, cover the bottom and sides. Refrigerate for 15 minutes, until a firm. Then bake at 350 degrees until the crust is golden and fragrant, about 3-10 minutes. Let the pie plate to cool while you make the filling.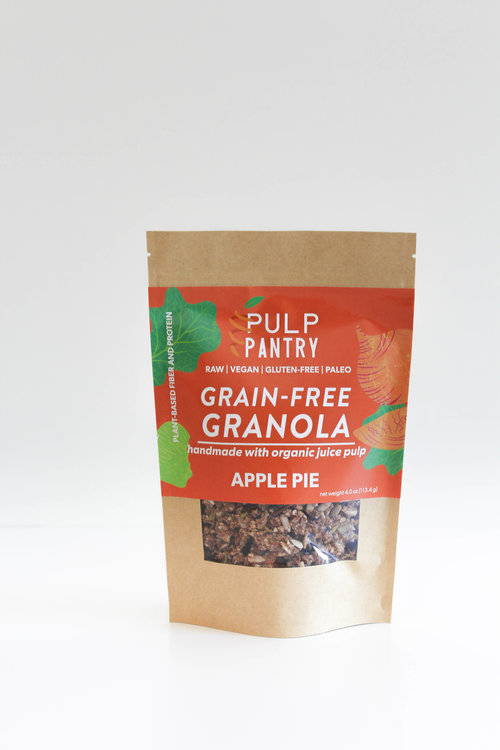 Now for the filling...
1 can (15 oz) pumpkin puree - extra points if you make your own!
1/4 cup maple syrup
1/4 cup coconut sugar
1/3 cup unsweetened dairy-free milk or applesauce (if using applesauce, skip the maple syrup!) (Try Made with Love Wellness Co.'s organic almond "mylk")
1 Tbsp melted coconut oil
2 1/2 Tbsp arrowroot, potato starch, or 1 tsp xantham gum
1 3/4 tsp pumpkin pie spice (or a mix of ginger, cinnamon, nutmeg & cloves)
1/4 tsp sea salt
1. Add all ingredients to a blender and blend until smooth, scraping down sides as needed. Taste and adjust seasonings as needed.
2. Pour filling into pie crust and bake at 350 for 58-65 minutes. The crust should be light golden brown and the filling will still be just a bit jiggly and have some cracks on the top. Remove from oven and let cool completely before loosely covering and transferring to the refrigerator to fully set for 4-6 hours, preferably overnight.
3. For extra deliciousness, serve with Minimalist Baker's coconut whipped cream and an additional sprinkle of cinnamon, nutmeg, and/or pumpkin pie spice.
Pie filling Inspiration from Minimalist Baker
Check out these blog posts for more delicious, vegan recipes to satisfying your cravings...