1 Pulp Pantry red velvet baking mix NOTE: This product has been discontinued for the time being, but keep an eye out - it might reappear!
2 flax eggs (2 Tbsp + 5 Tbsp water)
3/4-1 cup Almond milk + 3/4 tsp apple cider vinegar (Try Made with Love Wellness Co.'s organic almond "mylk")
1 1/2 tsp. baking soda
5 Tbsp. maple syrup or agave nectar
1/3 cup coconut sugar
1/4 cup melted coconut oil OR butter
Preheat oven to 375 degrees F, and lien 11 muffin tins. Add vinegar to almond milk. Stir and let curdle while moving onto the next step.
In a large mixing bowl, add water to ground flax and let rest for 5 minutes. Add baking soda to the almond milk viegar mixture and stir. It should fizz.
Add sugar, maple syrup, and almond milk mixture to the flax egg and beat to combine. Add melted coconut oil, salt, and mix.
Add flour mix and beat to combine. If the batter appears too thick, add a touch more almond milk, but it should be perfect. If too thin, add a little more gluten-free flour blend. It should resemble a thin batter that's pourable.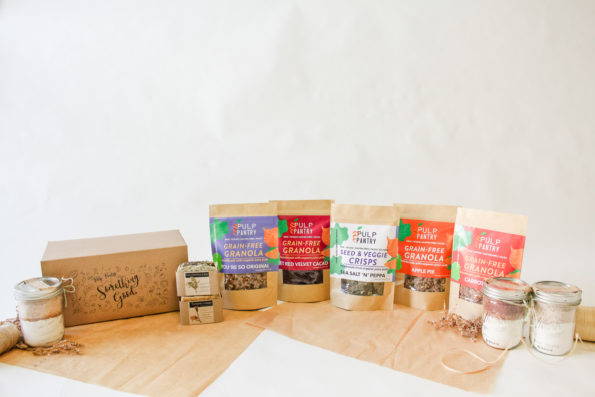 Divide batter evenly between muffin tins (should be enough for 11), filling 3/4 full. Bake for 29-34 minutes, or until puffy, and a toothpick inserted into the center comes out clean. Let rest in the tin for 10-15 minutes then remove and let cool COMPLETELY on a cooling rack. We know, it's hard! We suggest Frost'd vegan frosting to top it off.