Greetings, friends of Pulp Pantry!
I picked up more pulp than I could handle from the juicery this week, and naturally, I couldn't help but to save as much as I could to experiment with back home. With a few pounds of carrot pulp and almond pulp I was back in the pulp lab.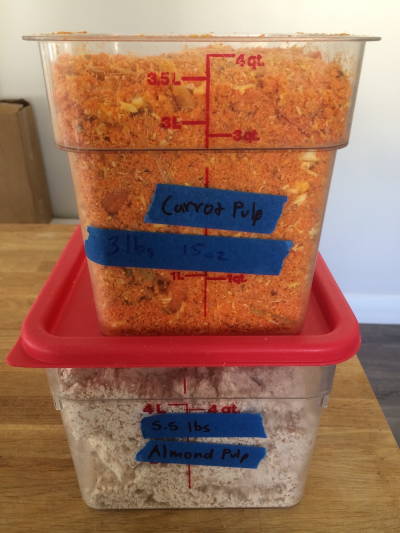 I've been in the mood for sushi this week, so I decided to use the carrot pulp as a rice substitute in my homemade sushi roll.
I had two takes on the roll - one was Asian inspired but the other was more of a garden fresh vegetable wrap. Not only were these rolls incredibly easy to make (<10 minutes!) but they are satisfyingly fresh and delicious.
Below is the recipe, up for your own creative interpretation!
Seaweed paper sheets (from your local Asian market, not sure if mass retailers carry them)
Hummus (make your own with tahini, chickpeas, salt, pepper, and lemon juice or try a fitting Asian-inspired dressing with fresh ginger and sesame oil blended with avocado, sea salt, and pepper)
Carrot pulp
Kale or leafy green of your choice (can also use pulp!) (Top 10 Health Benefits of Eating Kale)
Sliced jicama or bell pepper -- something to give a nice crunch!
Sliced avocado
First, lay out the sushi sheet flat on the counter. Slather on some hummus or dressing, and next lay down the carrot pulp on top. I did a little less than a 1/4 cup per sushi roll.
Next, I tore up some pieces of kale and placed the pieces on top of the carrot pulp. Then, I added some sliced red bell pepper and sliced avocado. Roll it up and you're ready to go!
This recipe is the perfect, satisfyingly fresh snack or meal, and works well in a time crunch.
Let us know if you get crazy and create your own interpretation. We'd love to hear! We hope you enjoy experimenting and creating your own recipes as well. Don't forget to share them with us - tag @PulpPantry on Instagram, Twitter, or Facebook!