Beet Green + Green Pea Salad
BEET GREENS ARE DELICIOUS...AND THIS SALAD IS FULL OF FLAVOR!
This recipe took 30 minutes to prepare.
In a bowl, mix together the beet greens (leaves and stems), red onion slices, vinegar, olive oil, and cumin, sea salt, black pepper.
Transfer the ingredients to a dark baking sheet, and bake for 20 minutes at 325 degrees or until the greens have the crispness you desire. I like mine crispy!
Prepare the pea topping while you wait.
If you want to use the beets for this recipe too, add in this step:
Bring a large pot of water to boil and add in the 4 beets, peeled and cut into thin slices.
Blanch for 3 to 5 minutes until semi-cooked but still a bit crunchy.
Refresh under cold water and dry before transferring to a large bowl. Add the beets to the beet green mixture.
1 cup split peas or fresh green peas (soaked overnight and then cooked for 30 minutes, or until soft)
1 thinly sliced avocado (12 Proven Health Benefits of Avocado)
optional: 1/4 cup cilantro leaves
Once the greens are ready, place half the greens into your serving dish. Then add half of the pea topping above, followed by the last half of beet greens and pea mixture.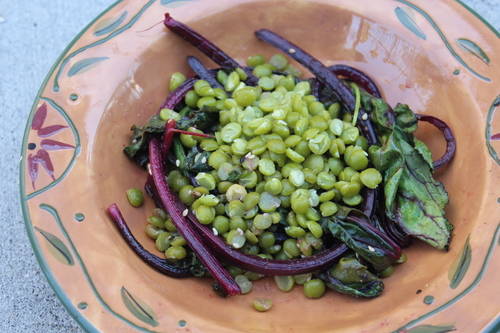 Adapted from Yotam Ottolenghi's "Plenty More" - an exploration in vegetable cooking.