If you haven't already heard, on October 7th, we hosted breakfast and yoga in the park to benefit The LA Kitchen. There's no better way to start your day than with some food for your soul, body and mind! All proceeds benefit The LA Kitchen and its mission to ensure that neither food nor people go to waste.
Now, for those who haven't heard of the LA Kitchen, we wanted to dive into their social enterprise model and what makes them so darn special.
Back in 2015, Kaitlin participated in a rapid prototyping Scrimmage as she was coming up with the idea for Pulp Pantry. The challenge was, how do we talk about an issue we're passionate about - food waste - without grossing our customers out? We came up with some marketing and branding messages such as our O.G. tagline: Meet Your Juice's Other Half. It just so happened that Robert Egger, President, and Founder of the LA Kitchen (previously at D.C. Central Kitchen) was there speaking!
After hearing him speak, it was love at first sight. I think everyone has that same experience.... His mission and vision were ambitious but his words were the TRUTH, and the solutions he proposed highly necessary given the state of the food system in Los Angeles. Not only do we have 1.6 million suffering from food insecurity, but at the same time, over 18 million pounds of food go to waste (booo!!!). (How L.A. Kitchen does it all, from fighting food waste, to training workers, and feeding seniors - the L.A. Times)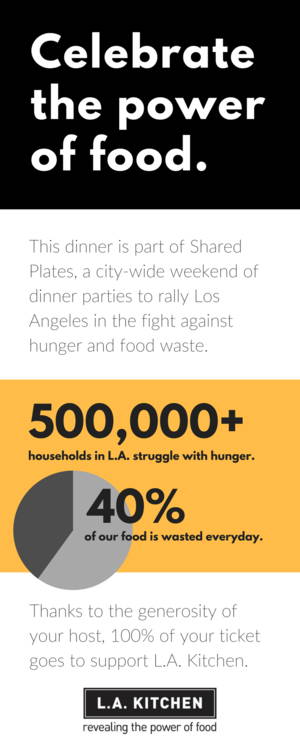 "L.A. Kitchen believes that neither food nor people should ever go to waste. By purchasing and reclaiming cosmetically imperfect fruits and vegetables, which would otherwise be discarded, and using them to train and create culinary jobs for unemployed men and women, we make scratch-cooked, healthy meals and snacks for the community. Through this process, L.A. Kitchen reveals the power of food to strengthen, nourish, and engage."
L.A. Kitchen is putting the stigma of imperfect of ugly produce to bed. They're using the ugly in this produce to feed low-income seniors and provide job training to people who need it most.