Pulpsgiving: Zero Waste your Thanksgiving
By Corey Abesa and Esther So Jung Moon
"Did you know that 150,000 tons of food goes to waste in America per day? Additionally, over 240 million pounds of turkey alone is wasted each year after Thanksgiving. All of that food ends up in the landfills (if not composted), contributing to methane gases."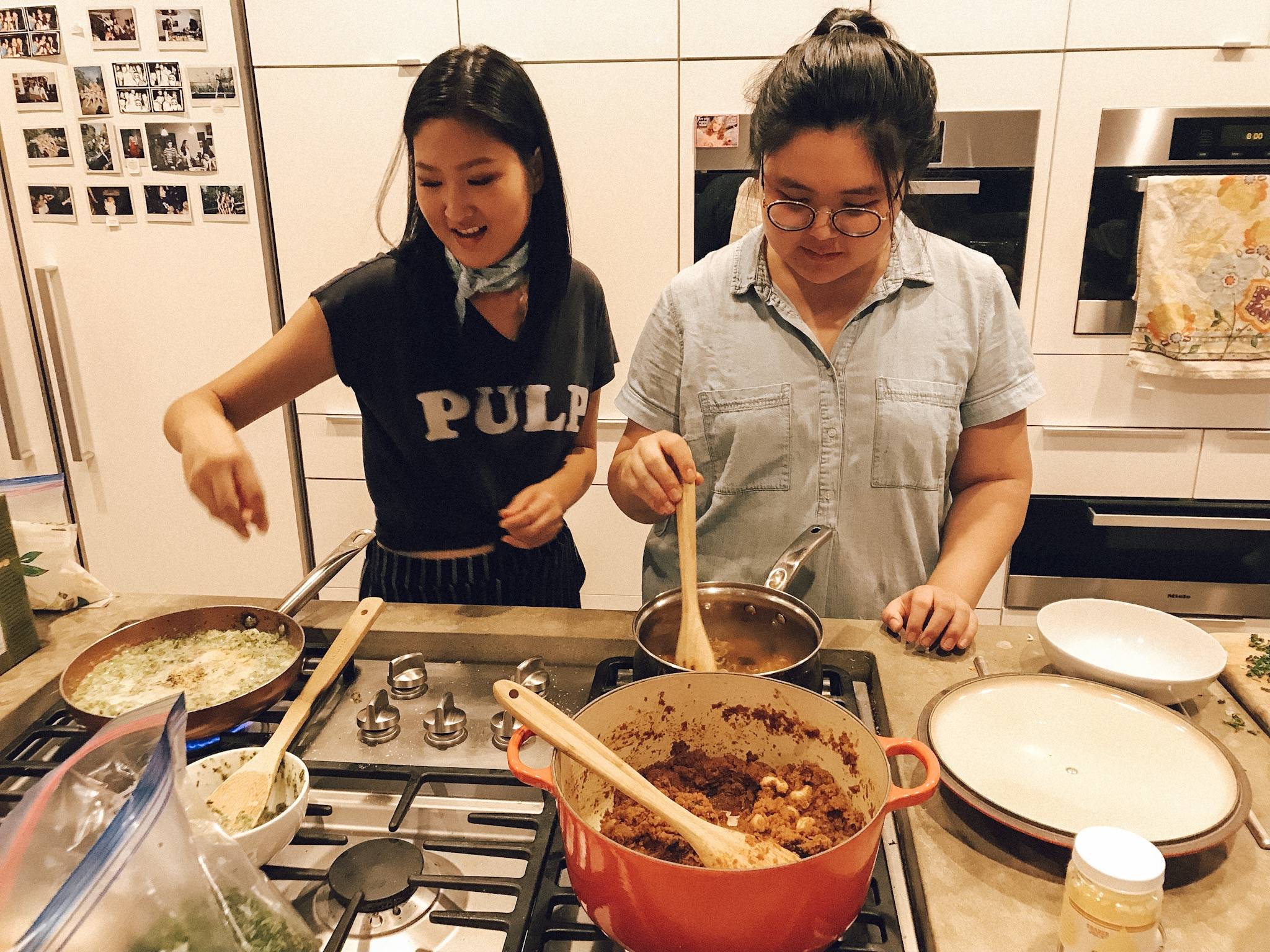 This year, our R&D chefs decided to create Pulpsgiving: zero-waste thanksgiving recipes made with scraps + pulp.
There are so many ways you can reduce waste this Thanksgiving, starting with purchasing the right amount of food.
Websites like https://www.siitch.com/ can help you with party planning and determining what to buy.
Blogs and our pinterest page can help you with turning leftovers into new dishes in the days following.
We took our own spin on a zero-waste Thanksgiving by looking at what we had in the pantry, combining it with our favorite byproduct ingredient, juice pulp, and transforming ingredients into a delicious family meal.
Enjoy!
- Corey Abesa, Esther Moon, and the Pulp Pantry team.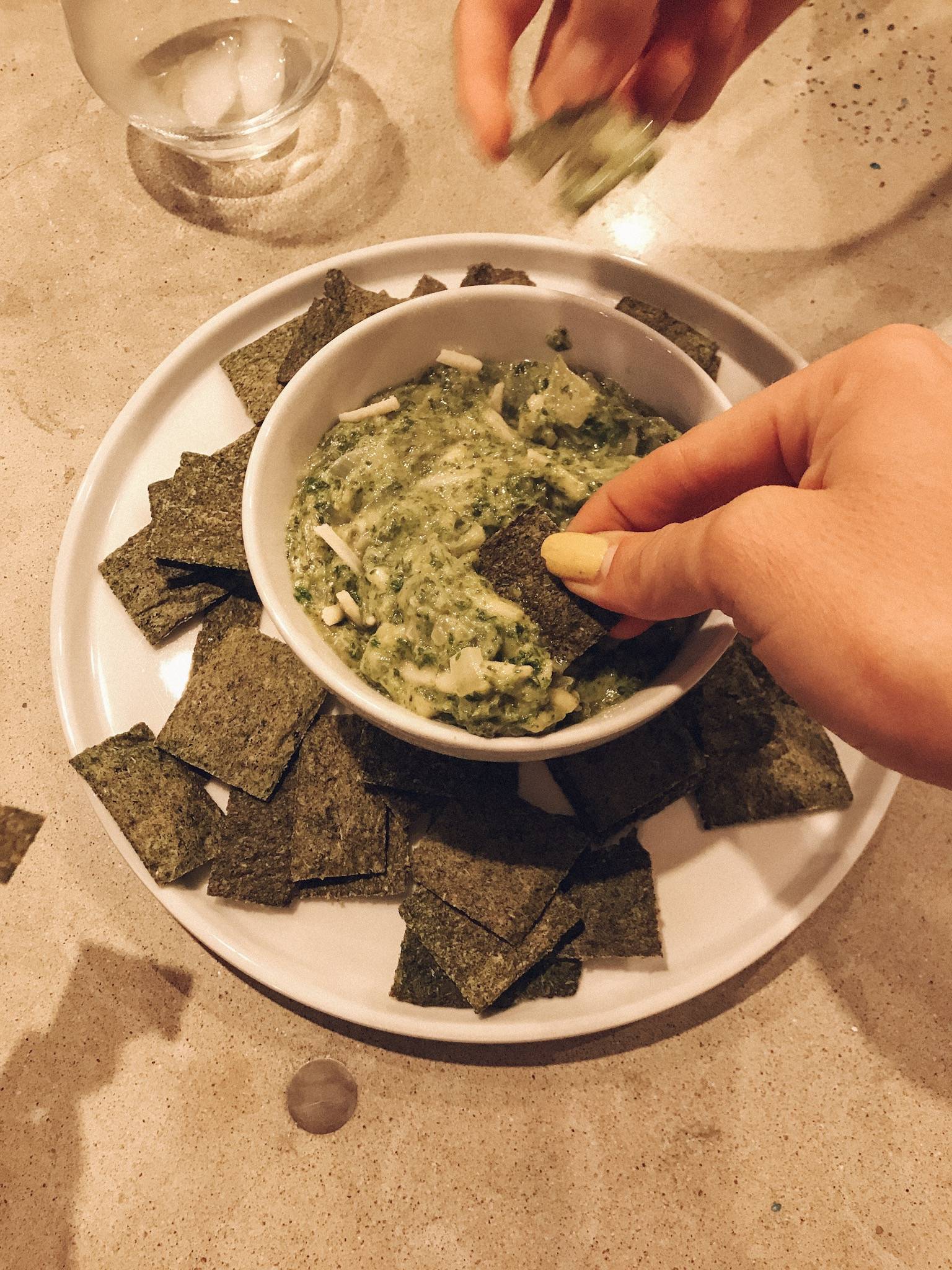 Kale "Artichoke" Dip (Vegan, GF)
Ingredients
1/2 onion, chopped
3/4 cup Kale, pulp
1/2 cup Almond milk (unsweetened)
1 tbsp Tapioca Flour
3 tbsp Vegan Butter
3/4 cup Vegan Mozzarella Cheese, shredded
1/3 cup Nutritional Yeast
3 tbsp Garlic powder
2 tsp Salt
1 tsp Black Pepper, ground
Directions
1. Heat the pan in medium to high heat.
2. Once the pan is hot, add the vegan butter and once the butter is melted, add the chopped onions
3. Slowly add in the almond milk.
4. Sprinkle the tapioca flour into the pan.
5. Let the tapioca flour thoroughly incorporate into the milk, butter, and onions.
6. Add in the vegan mozzarella cheese, nutritional yeast, garlic powder, salt, and black pepper. Make sure to save a little bit of vegan mozzarella cheese to top it off later.
7. Once the consistency is thick, add in the kale pulp into the mixture and cook it for 1 minute.
8. Top it off with more vegan mozzarella cheese on the top.
Serve the kale dip with the Pulp Pantry's Veggie Thins!
— Esther So Jung Moon
Mushroom Kale "Risotto" or Savory Oatmeal (GF, Vegan)
Directions
1 1/2 cup Rolled Oats, Dried
3/4 cup Kale, pulp
4 tbsp Olive oil
4 tbsp Vegan Butter
1/2 onion, chopped
1 tbsp Tapioca Flour
1 cup Vegetable Broth
1/3 cup Nutritional Yeast
1/3 cup Vegan Mozarella Cheese, shredded
1 cup Almond Milk (Unsweetened)
1 box (preference) White Mushrooms, chopped
1 tbsp Parsley (Fresh or Dried)
2 tsp Salt
1 tsp Black Pepper, ground
Directions
1. Heat the pan at medium to high heat.
2. Once the pan is hot, pour in the olive oil and the onions together.
3. Allow the onions to cook until it becomes transparent.
4. Add the chopped mushrooms into the pan and let it cook through for about 2-4 minutes.
5. Remove the cooked onions and mushroom from the pan and set it aside.
6. Mix the melted vegan butter and the tapioca flour until it has a consistency of a roux.
7. Slowly pour in the almond milk, vegan mozzarella cheese, and nutritional yeast into the roux.
8. In the same pan, add the dried rolled oats and kale pulp and cook it for about 1 minute.
9. The rolled oats will soak up the roux mixture, so continue to add the almond milk and the vegetable brother little by little.
10. Make sure that the thickness/consistency of the risotto should have some creamy texture to it. If the risotto seems a bit dry, add more broth to the risotto to make it more watery.
11. Add back in the cooked onions and mushrooms that were set aside earlier into the risotto.
12. Add the salt and the black pepper to season the risotto.
13. Incorporate them all together and top it off with some chopped parsley to finish.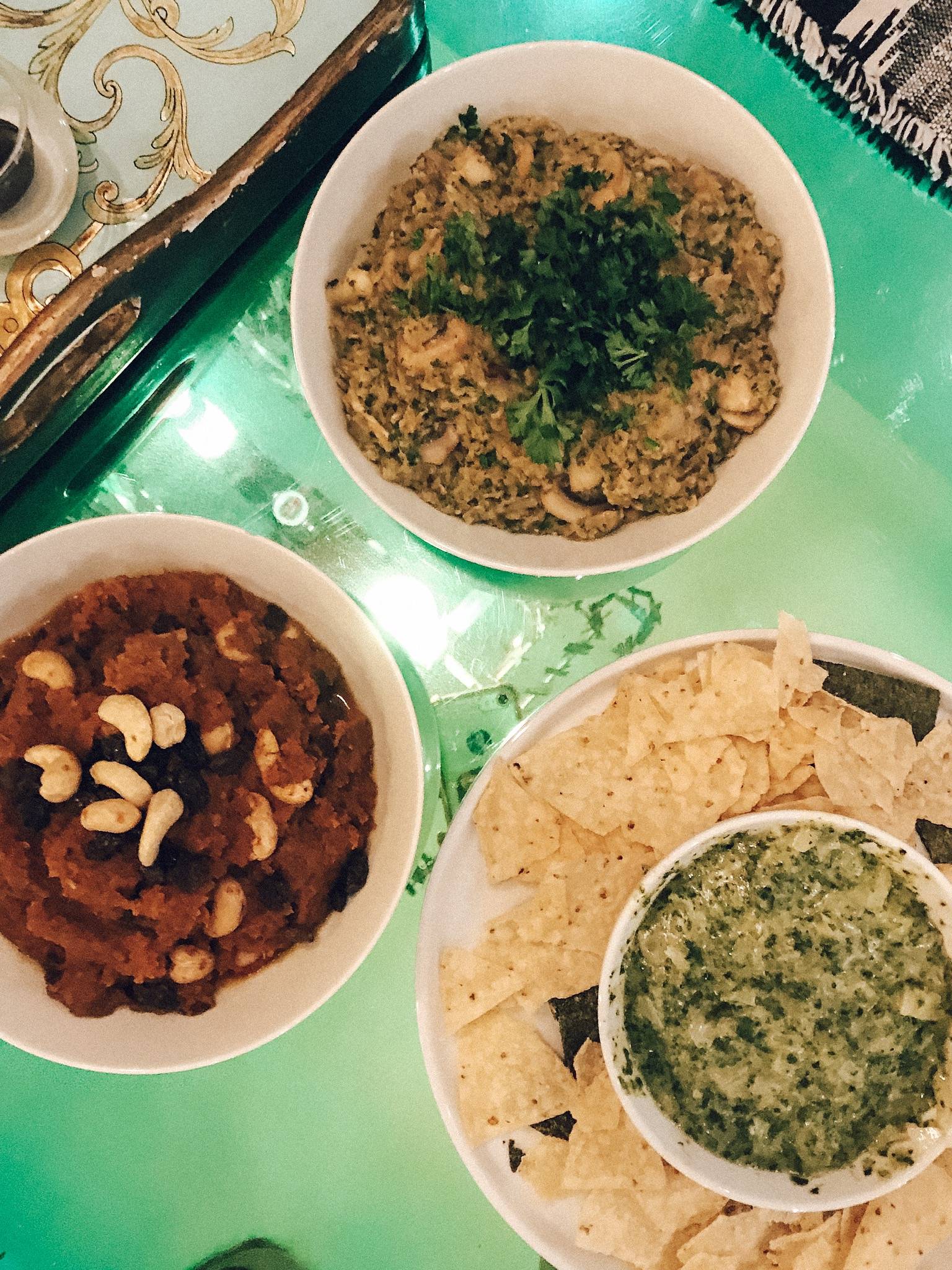 And...Dessert! Carrot Pudding (Gajar Halwa)
3 cups Carrot, pulp
1 cup Coconut milk (unsweetened)
1 cup Almond milk (unsweetened)
3/4 cup Coconut Sugar
6 tbl Ghee or coconut oil
1-2 tbl Ground cardamom (depending on taste preference!)
1 tsp Salt
1/4 cup Raisins
1/4 cup Cashews (optional)
Directions
1. In a medium-sized pot, add carrots and milk.
2. Heat pot over a medium to high heat. The milk should be slightly bubbling and not over boiling. Stir occasionally.
3. After milk has reduced to about 75% after 15 minutes, add coconut sugar, ghee, ground cardamom, and salt.
4. Continue to stir and cook until the milk has completely evaporated.
5. Once milk has evaporated and carrots are soft, add raisins and cashews. Mix thoroughly.
6. Serve warm and enjoy this dish as a dessert or as a quick sweet treat!
---