Zero Food Waste: Use Almond Pulp for Sweet & Savory Energy Bites
Almonds are expensive!...So why waste one bit?
Yes, almond milk is delicious and versatile. But so is its pulp.
Sharing another delicious and quite beautiful recipe for Energy Bites made from almond pulp via Golubka Kitchen.
In case you didn't read our prior post on Golubka's Almond Milk + Almond Pulp Cookies, this duo is based out of Florida. They have a beautiful blog and Instagram, definitely worth checking out.
Now, on to the recipe!
---
SWEET AND SAVORY ENERGY BITES
(What to Do with Leftover Nut Milk Pulp)
February 10, 2017 By Anya
Last week, I talked a little bit about my love for homemade nut milk, how it always tastes better than the store-bought kind, and how the amount of control I have over the process and ingredients makes it all worth the tiny bit of fuss. I've noticed that whenever I discuss making nut milk with anyone, the question of utilizing the leftover nut pulp is bound to come up. No one wants to throw it away, but not many people know what to do with it, either. I was in the same boat for years – sometimes, I would freeze the pulp for later use in place of almond flour in baked goods, which didn't always work out because the pulp is not quite as dry as almond flour. Other times, I tried incorporating it into granola, but If I'm being honest, I often ended up throwing it away, not without some serious guilt. About a month ago, I opened up the question on instagram and got so many fascinating suggestions that went way beyond baking/granola: a base for stuffing, a thickener for smoothies, chicken feed, face scrub (!), and energy balls. I found the idea of pulp-based energy balls to be really compelling and set out to make both a sweet and a savory version. I'm really excited to share the results!
Both of these recipes are 'kitchen sink'-style and can easily act as a pantry cleanout aid. The sweet bites are full of toasty notes from the nuts, seeds and coconut, chocolatey and energizing with the addition of cacao, and sweetened with dates. The savory ones remind be a bit of the raw falafel I used to make back in the day. There's miso, tahini, and tamari, as well as invigorating spices, herbs and even seaweed. Both make for an amazing pick-me-up snack, easy to transport and a breeze to prepare. And I definitely won't be throwing away any more nut pulp.
1 cup nut pulp, left over from making plain nut milk
¼ cup toasted unhulled sesame seeds, plus more for coating
2 tablespoons ground flax seeds
2 tablespoons sesame tahini
2 tablespoons freshly squeezed lemon juice
1 tablespoon miso paste
1 tablespoon neutral coconut oil
½ tablespoon tamari
black pepper - to taste
1 teaspoon smoked paprika, plus more for coating
1 teaspoon turmeric, plus more for coating
Optional add ins
Mix all the the ingredients in a food processor or in a bowl by hand, until well combined. Roll into balls about 1-inch in diameter. Coat with sesame seeds, turmeric and/or smoked paprika, if desired. Keep refrigerated in an airtight container for up to 4 days.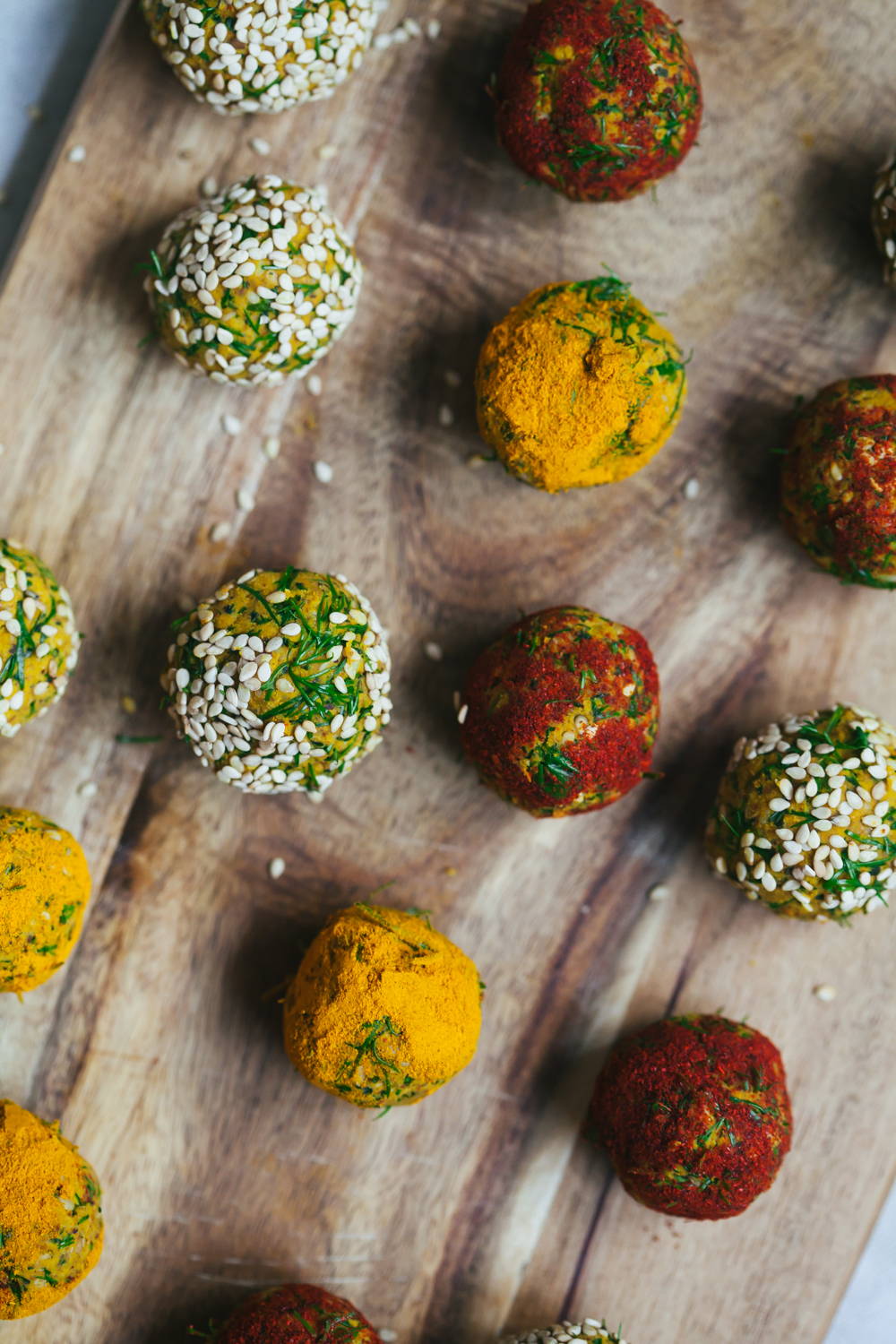 1 cup mix of various toasted nuts and seeds, such as hazelnuts, walnuts, pumpkin, sunflower or sesame seeds, plus more for coating
2 large, soft Medjool dates - pitted and soaked in hot water for 10 minutes
1 cup nut pulp, left over from making nut milk
4 tablespoons raw cacao powder
3 tablespoons honey or maple syrup, or to taste
2 tablespoons almond butter (Nuts are a Nutritional Powerhouse - the New York Times)
2 tablespoons tahini
2 tablespoons chia seeds
1 tablespoon neutral coconut oil
Optional add ins
1 tablespoon hemp hearts
handful toasted coconut flakes or desiccated coconut
2-3 tablespoons cacao nibs
½ tablespoon mesquite powder
½ tablespoon moringa powder
1 teaspoon maca powder
1 teaspoon ground cinnamon
1 teaspoon ground ginger
matcha powder - for coating
raisins - for decorating