Pulp Pantry in LA Weekly: A Food Waste Warrior Is Making Snacks With Recycled Fruit and Vegetable Pulp
Check out the original here!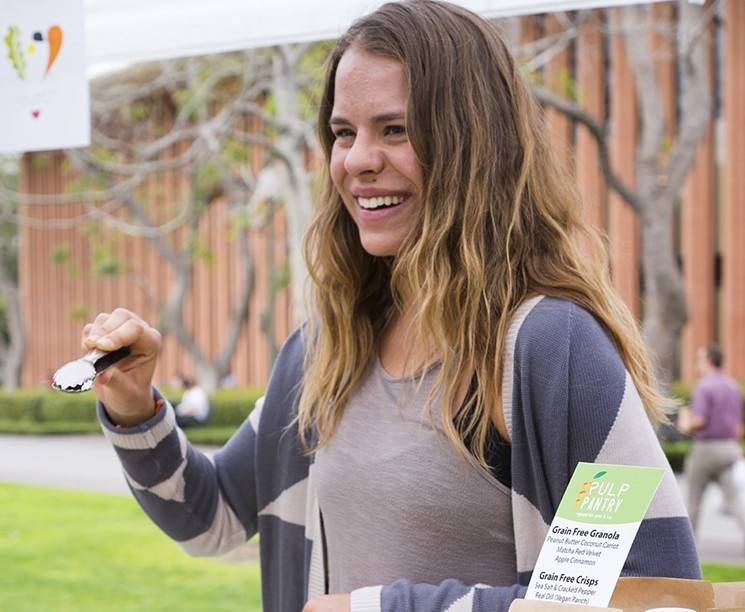 Above: Kaitlin Mogentale repurposes about 100 pounds of pulp per week from the Raw Juicery in downtown L.A. and Renew Juicery in Culver City.
Kaitlin Mogentale's Pop-Tarts–inspired invention has little in common with the buttery, jam-stuffed toaster pastries. Her recipe consists of gluten-free dough made with carrots and coconut oil, and a filling of cinnamon-spiced apples, dates and agave.
On a recent Friday afternoon, Mogentale assembled the pastries and other snacks inside a nondescript commercial kitchen on Robertson Boulevard. The vibrant orange dough crumbled as Mogentale attempted to cut it into squares. She appeared unfazed, patiently handling the dough while bopping to old-school rock.
"I was never a baker," the 22-year-old says.
Mogentale likes to think of herself as a food waste warrior. She is the founder of Pulp Pantry, a social enterprise that sells food products made from recycled fruit and vegetable pulp.
Mogentale developed the idea for Pulp Pantry in the fall of 2014 while watching her friend juice a carrot. Mogentale, then a senior majoring in environmental studies at USC, observed the problem of what she now calls "juicery waste." Rather than allow her friend to discard the vegetable fiber left over from the juicing process, she baked carrot-pulp cookies.
"I'm sitting there thinking this amount of pulp was produced from just one household," Mogentale says. "What are all these huge juiceries doing with their pulp?"
Mogentale wondered what other items she could produce with the nutrient-rich fruit and vegetable matter. She began making snacks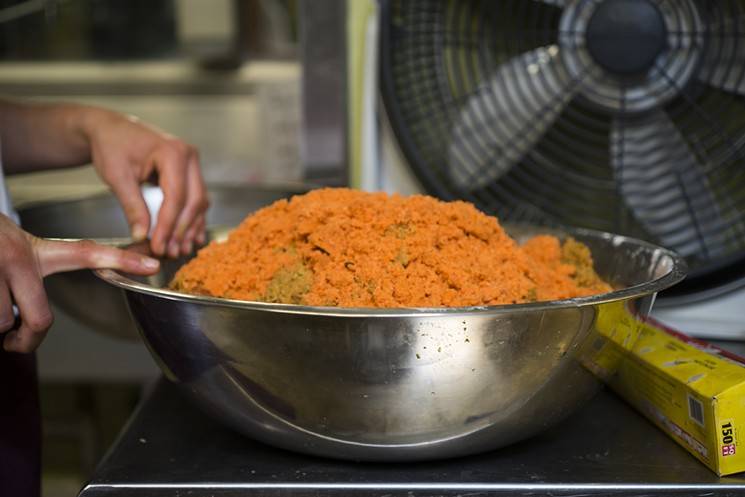 Pulp Pantry offers snack products created from leftover juice pulp.
using pulp from Nékter juice bar on USC's campus and shared her creations with classmates, friends and professors.
The summer after graduation, Mogentale completed a monthlong hiking trip through the Sierra Nevada Mountains and returned home inspired to pursue her passion project full-time.
Mogentale started Pulp Pantry last September and now repurposes about 100 pounds of pulp per week from the Raw Juicery in downtown L.A. and Renew Juicery in Culver City. Every Friday morning, she pulls up to the juice shop in her Honda Fit and packs the tiny car with bins of vibrantly colored pulp. And the recent college graduate still returns to her alma mater every Wednesday, as a vendor at the university farmers market.
Students who stroll by Mogentale's booth often inspect the products carefully, intrigued and skeptical. Mogentale enthusiastically offers samples and explains to customers the goal behind Pulp Pantry. She admits she does not come from a culinary background and is driven primarily by her dedication to sustainability.
While conducting research for her business, Mogentale found that most juiceries either composted their pulp or sent it to landfills. Pressed Juicery, the juice giant with 29 retail locations in California, donates pulp from its Central Valley production facility to farmers, who use it as fertilizer. Some shops just throw it away.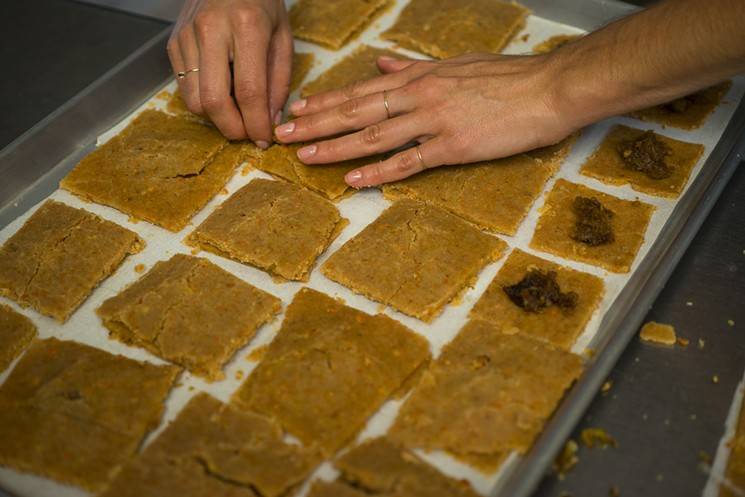 Mogentale assembles "pulp tarts" with a carrot dough and apple-date filling.
"When juiceries throw away pulp, they are missing out on all the fiber, which is the real reason why we are supposed to be eating fruits and vegetables," Mogentale says. "They're also throwing away so much potential profit. How could they not have pulp built into their business model?"
Pulp Pantry's offerings include vegetable crackers, grain-free granolas and baked goods. The chocolate-beet granola, a best seller, is crunchy and subtly sweet, studded with sunflower seeds and spiced with a whisper of cinnamon. Flavorwise, all of the products possess a distinct earthiness of what can only be described as, well, health food.
This is somewhat intentional. To stay true to her mission, Mogentale must ensure that pulp remains the main ingredient in all of her recipes. A three-ounce bag of carrot granola ($6) contains just over four ounces of raw almond, carrot and coconut pulp (the pulp loses about 50 percent of its weight during the dehydration process). Each bag packs 9 grams of protein and 15 grams of fiber.
Mogentale produces roughly 200 bags of crackers and granola per week, enough to cover three farmers markets (Fig at 7th, Manhattan Beach and USC), retail distribution to Renew and online orders. Although she often spends 12-hour days in the kitchen, she acknowledges her efforts barely make a dent in the amount of pulp waste produced by hundreds of juiceries in the Greater L.A. area.
Mogentale's long-term goal is to teach juice shops to establish their own pulp-recycling operations. But for now, the self-described "pulp princess" says she's content tackling the problem solo.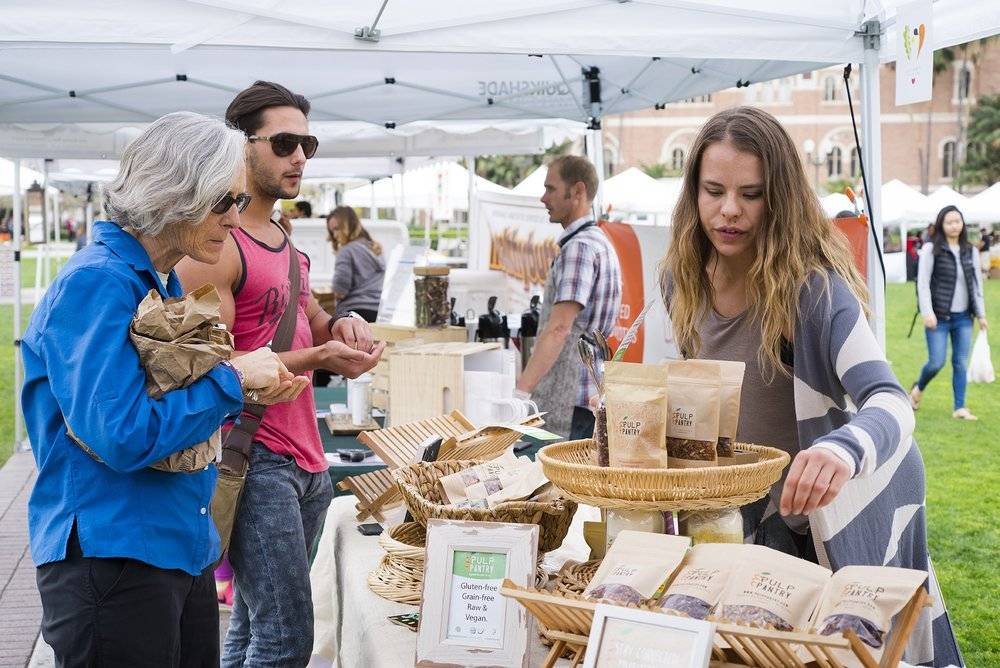 Mogentale at the farmers market.