Nutritous, Delicious Almond Pulp Pesto
Substitute your almond or nut pulp in place of your typical pesto base, for a healthy boost for your favorite pasta dish or snack.

Ingredients: 
2 sprigs (about 4 oz) of fresh basil (more if you like your pesto super basil-y, you can use a whole store-bought container or bundle)
Olive oil
1 Lemon
Nutritional Yeast
Garlic (3 cloves) 
2 cups almond pulp (I dehydrated mine beforehand, but works with wet almonds as well and may require less oil)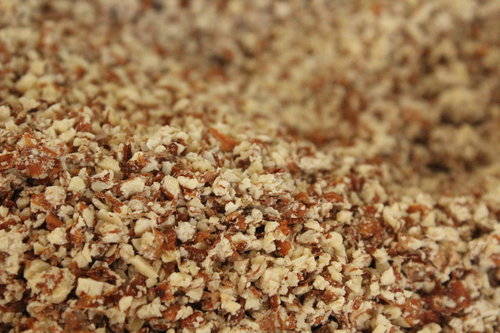 Use a food processor or small blender
Chop up the basil and garlic in the food processor first
Add in the nutritional yeast and lemon juice from one lemon, followed by olive oil to achieve the right blending consistency
Pulse or process until ingredients are mixed thorughout
Enjoy! I use the pesto as a dip, but it's always good to add on top of pasta or zucchini noodles, salads, you name it.