Meet Regrained's Upcycling CEO & Co-Founder, Dan Kurzrock
"Upon graduating from college back in 2015, I was still toying around with the idea of bringing the concept for healthy snacks made from fruit and vegetable pulp into reality. I had so many questions about where to begin and which trajectory to follow. To my knowledge, there were no other companies in this space - upcycling a byproduct to produce delicious, creative foods - which was exciting, but also daunting."
— DAN KURZROCK
I was at a local market in San Francisco, scouring the aisles as I always do, looking for anything new, different, or exciting. I came across the ReGrained bar, and was intrigued by the name (we had considered calling Pulp Pantry Re:Food). I picked up a bar and read the label. And what do you know? I discovered that my wildest dreams had come true. Here was a company that had made it into the grocery store with a parallel concept - upcycling spent brewer's grain into delicious granola bars. I bought one immediately opened up the ReGrained website and reached out. I had to meet these guys!
That fateful moment has led to a sense of camaraderie with the ReGrained team, who we are grateful to have as mentors along this journey.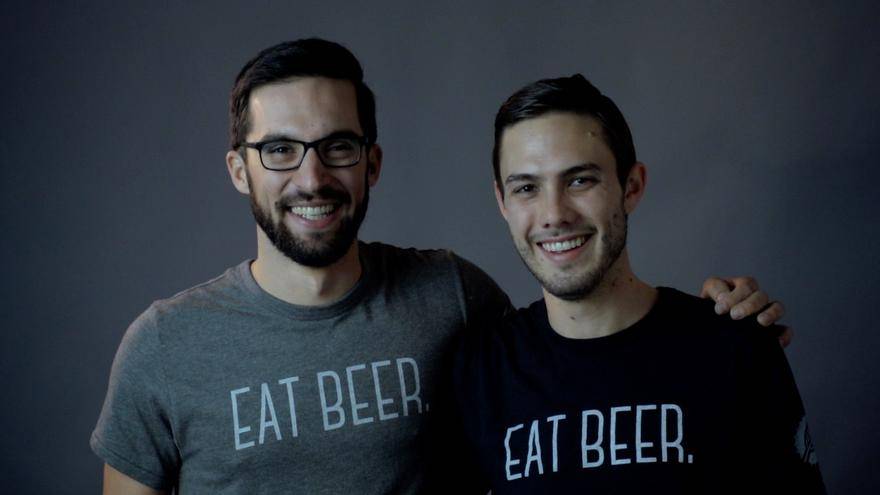 Dan (left) and Jordan (right), co-founders of Regrained.
Get to know Regrained's Co-founder and CEO, the extraordinary Dan Kurzrock.
"In creating a product, there are many factors. We look at each of these factors as an opportunity to share our values."
— DAN KURZROCK
Q: What's the mission behind ReGrained?
A: To close the loop between the brewing industry and the food system. We're doing so by upcycling the grain that's been used by brewers to make super grain snacks. We are fighting food waste with edible upcycling.
Q: What is your "food philosophy" (as a consumer or as a creator)? Example: Michael Pollan's is: "Eat food. Not too much. Mostly plants."
A: Do more with less. Make our food system do more with less by preventing food waste in the industrial process, being creative and resourceful, finding ways to effect meaningful change sustainably.
As it relates to Regrained, it's not just about the fact that our model is sustainable. In creating a product, there are many factors. We look at each of these factors as an opportunity to share our values. For example, packaging is something that usually crowds our landfills. Acting on our values, we decided that using compostable packaging was a non-negotiable product attribute.
Q: What was your inspiration for starting ReGrained?
A: When we started the business, we were adamant about the concept, but knew that we had a lot to learn. We took an incremental approach as recreational entrepreneurs, doing it at night and on the weekends. We started small scale, with farmer's markets.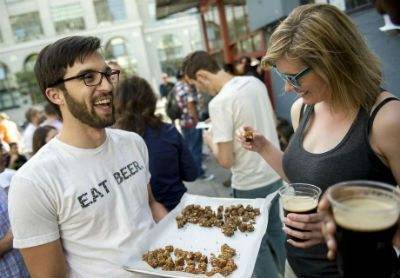 Dan Kurzrock demos his Regrained granola bars in San Francisco.
We pushed as far as we could, doing it as a side hustle. Trying to make the jump would have been huge right out of college. It was a scary step, but we wanted to break the huge leap into small steps that would enable us to grow sustainably.
Q: What has been most difficult in getting ReGrained off the ground? What keeps you going?
A: It's been about 6 years since we came up with the idea, 5 years since our first product iteration launched. We didn't bring the product to market until this past year. Our challenge was: how do you create and market a delicious product when the mission is to reduce waste? Marketing around the idea of upcycling and figuring out the challenges with sourcing has always been a big challenge. (3 Companies Doing Cool Things with Food Waste, featuring Regrained - Eating Well)
But it's also the ultimate opportunity to create a win-win in our food system — reducing a waste stream while creating a nutrition stream. This is such a real idea that the market is ready for and we're the first to commercialize a product using spent grain. We want to stay up in front and create this market.
Q: What does success mean for you?
A: Success looks like us becoming the go-to solution for breweries across the world. We'll be successful when the majority of the world's spent grain product is going back into food products. It's not called spent grain anymore but instead, another nutritious ingredient… " super grain ." The language will transform, much like whey, so that it's no longer considered a byproduct.
Q: What's your vision for the future of ReGrained?
A: Becoming not only the go-to solution for brewers, but also a household name for consumers. The brand you think of when you think " super grain ."
Q: What's the best piece of advice you've received?
A: Don't let perfection get in the way of the product. You're never going to be sure.
Q: Fill in the blank - (e.g. ambition, family, resourcefulness) - took me where I am today.
A: Passion and stubbornness.
Q: What are you obsessing over currently, or what trends, topics, chefs, foods are you into at the moment?
A: I'm stoked on everything happening in food waste. The time is right to address the opportunity in a meaningful way. I love burritos.
Q: Best place to get a good burrito in SF?
A: Taqueria Cancun.
Q: Do you have any advice for entrepreneurs looking to start on their own path, or things you would've wished you'd known in the beginning of gettingyour brandstarted?
A: Wouldn't change anything, but there's a lot I would have liked to know. One of the things we've learned over time: sustainability and green messaging isn't enough. We have to build an amazing product and brand, something that tastes great and is healthy. Just the sustainability of the product isn't going to sell it. Make the right thing the easy thing. Create a win-win.
Q: Any quick tips or mantras for wasting less food, eating healthier and living a balanced life?
A: Put everything in a stir-fry .
Make time to invest in your own ability to think. It happens for me when I'm outside. I'm getting exercise and I'm thinking. It has to do with the fact that my body is occupied, so I can't be restless, I can focus and get into a meditative state. I also enjoy cycling, skiiing , and hiking, all of which create space to do some real thinking, which is hard to do when you get caught in emails and setting up meetings.
Q: Where can readers go to learn more about you, or follow your content?
A: ReGrained.com, social media @regrained, and Medium.com – look for my postings under ReGrained and Dan Kurzrock.
Q: Anything else you'd like to mention?
A: Breweries aren't purposefully wasteful. Making beer happens to also make food — it was something that was overlooked until we came around. This is an opportunity to elevate the spent grain to a higher purpose. Usually, it's used for animal feed. That's one sustainable use for it, but feeding people is an even higher and better use for it.
San Francisco has 30+ breweries in a 7 mile radius. Urban craft breweries need better solutions for their product. That's where we're coming in.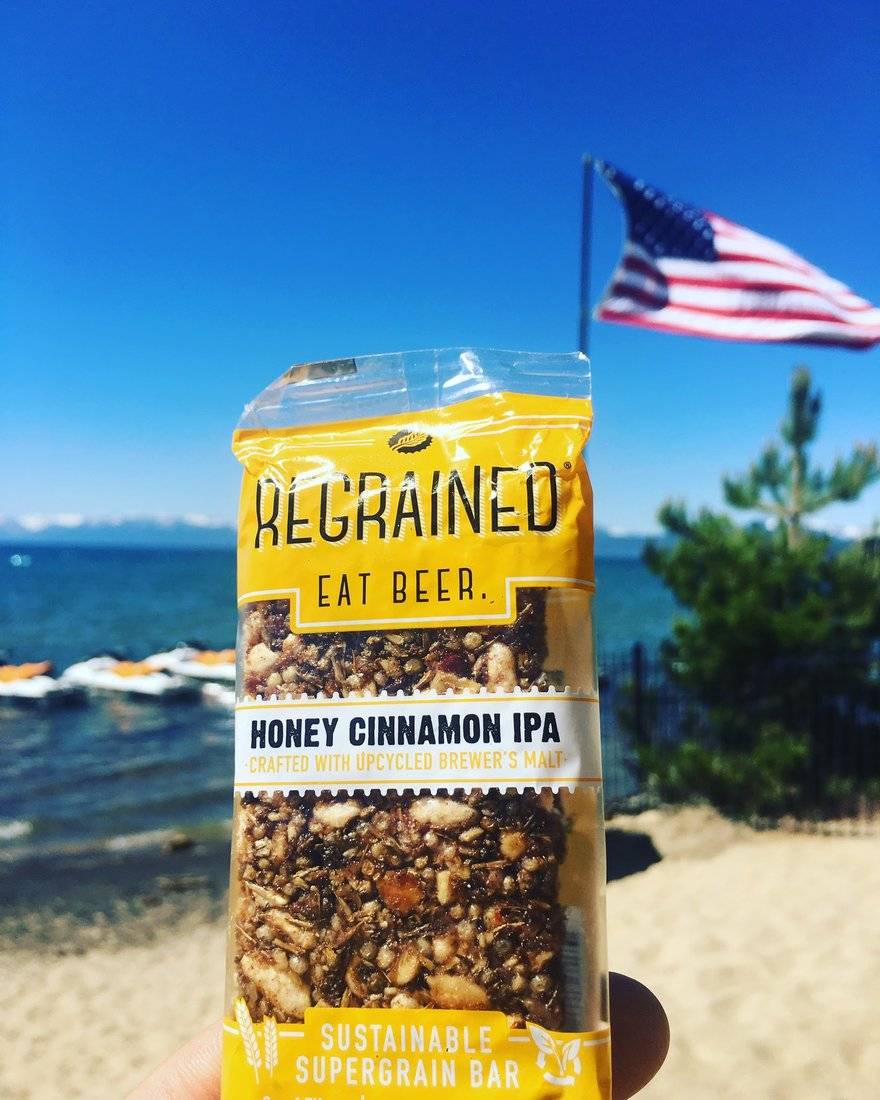 Keep a lookout for ReGrained's products, available on Amazon, their website, and many retailers across Cali and beyond!