How this Cal Poly Student Team Turned Food Waste into Boba
FOOD WASTE WARRIORS IN ACTION: These students developed a recipe for boba from orange peel food waste!
We caught up with Tiffany Yang from the Cal Poly Pomona Food Science Program this past week.
She and her team attended the Restaurant Chef Association Conference to present their idea for the Evolution of Food Waste Product Development Competition - turning food waste into value!
Read up on what they learned through their genius development process.
Q: How did you get involved in the competition, and why did you select to use orange peel as your food waste ingredient?
A: I have been working with my friend, Julia, on making orange pomace (peels, flesh, and seeds) into products for human consumption with our professor, Dr. Li, at Cal Poly Pomona. We have been doing preliminary work by making them into powder to be easily incorporated into products. We obtained our orange pomace from Cal Poly Pomona's Farm store because they produce orange juice daily. We then heard about the RCA Evolution of Food Waste competition, then gathered up some group members and began the process of creating our product, Citripom. For companies to get rid of the waste, it would require excessive energy and expense. In addition, about 40% of oranges are used in the juicing industry and around 40-50% dry weight end up as peel waste. Therefore, by incorporating into something humans can consume would benefit the environment, set a new trend, and reduce the cost of disposing of the waste.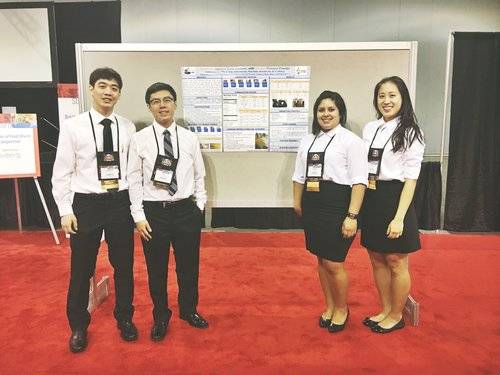 The product development geniuses themselves! Pictured at the RCA '17 conference in Puerto Rico.
Q: How did the idea to create boba come about?
A: I have worked in a boba shop called Ten Rens Tea time previously and I was pretty familiar with the process of cooking and storing boba. While our group was trying to figure out what product would be suitable for orange pomace, boba came into mind. It was the perfect way to incorporate an ethnic culture into a product that have always been widely accepted by our target market, young adults. By adding a twist and making it healthy, our group believes that it was the best way to mask the bitterness by adding boba into tea and potentially make its way into the dessert industry as toppings.
Q: What was the process for product development like or your experience in bringing this idea to life with a real product?
A: The process for product development was very simple, as our goal was to convert from raw materials to fine powder. The background work in order to make sure the orange pomace powder was the ideal size and uniformity took a while to formulate. The actual making of the boba was quite intensive, as hand rolling was involved because we were producing on a smaller scale. Some challenges we've faced include increasing the amount of orange pomace inside the boba made it too bitter and too grainy, therefore, we had to reduce the amount and make the size smaller.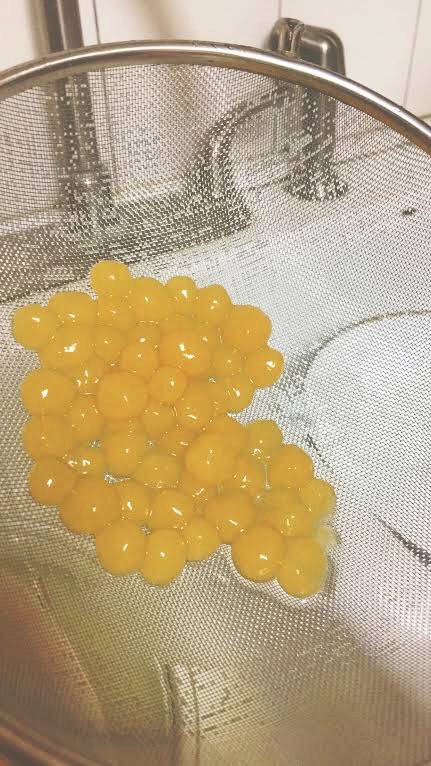 Photo of the finished Citripom Boba product.
Also, we were having trouble figuring out how long the boba would need to be dehydrated without cracking, then we found our ideal time by a series of trial and error.
Q: Describe the end product you created, and what do you see as the challenges to bringing this product to market?
A: Our end product was Citripom, which are tapioca balls made with orange pomace. They taste especially refreshing with fruity teas and compliments very well. Our experience presenting our product was very terrifying, as we did not know if our product would be accepted by the judges. It was very intimidating to be able to persuade a crowd to like our idea. Some challenges with commercialization include finding a machine to make it faster to reduce labor, negotiate with different companies to obtain orange pomace, and being able to build a brand name that would allow different boba shops to trust our product quality and safety. We all learned from our experience that product development takes a long time and lots of experience to be able to have a product that consumers might want. By working with marketing and consumer insight, that would be the best way to figure out if our product could potentially be something they could look into.
Q: What's next?
A: Moving forward, we will work with our professor to improve the product whether it is flavor or packaging or assign this project to other researchers after we all graduate this year. As of now, we do not have a plan to launch this product to market because there are still work to be done. However, maybe in the near future, Citripom will be the next big thing.
---
"About 40% of oranges are used in the juicing industry and around 40-50% dry weight end up as peel waste.
"
— TIFFANY YANG
Lean more about Cal Poly Pomona's Department of Human Nutrition & Food Science