Food Waste Solutions Summit: Recap and Insight
It's not easy being green. But with some grassroots organizing and a few dedicated individuals, it is possible to make a huge difference in ensuring that food resources are redistributed before they are sent to the landfill.
We were inspired to learn about local San Diego and nationwide organizations bringing awareness and action to eliminate food waste once and for all. From farm to processing to household, the organizations we shared the floor with are stepping up to do their part.
In the beginning sessions, we heard from policymakers and food policy councilmembers who gave us an overview of the state of our food system.
SavetheFood.org shared enlightening statistics about food waste in the United States, which amounts to over $1.3 billion worth of our food resources. A lot of this happens at the household level! That's right, everyday folk like you and me are the ones causing a lot of the issue! Read it and weep, people. Or, if you want to get really emotional, just watch the love story video below: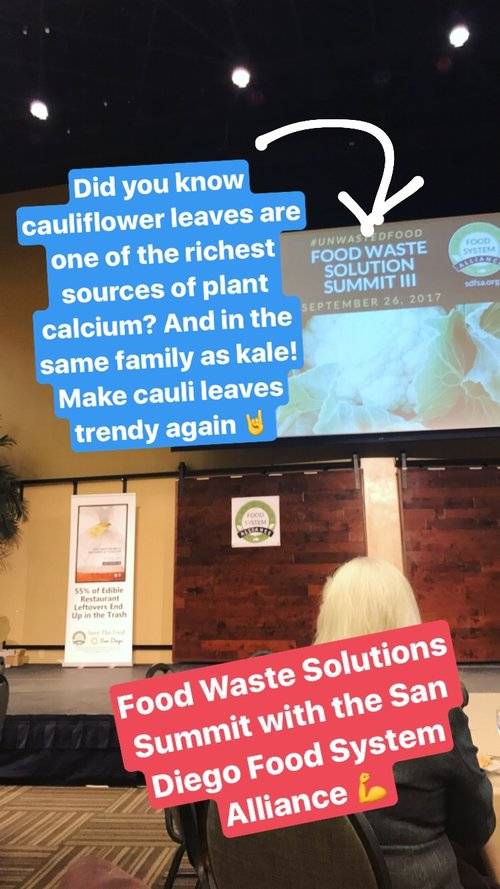 A 4-person family loses $1500 a year on wasted food. Saving that would basically be a raise.

Food is the number one thing in America's landfills, and it contributes more to climate pollution than all of the cars in Georgia.
wasting 1 pound of bananas results in water loss equivalent to taking a 42 minute shower.
20% of food we each buy never gets eaten.
The Environmental Defense Fund estimates that 25 percent of the manmade global warming we're experience today is caused by methane emissions.
Ugh is right.
Well, luckily it's not all dim and grim. Some of the amazing organizations we heard from included:
A local, LA-based social enterprise which turns leftover food from buffet-style restaurants into low-cost meals for the community through their app. Users receive 65-80% off of the total meal cost by purchasing food at the end of the night!
Before becoming an owner and full-time climate change advocate for Closing the Loop, Abriana(Bri) left the desert of Arizona and joined the military, serving 5 years as a U.S. Navy Corpsman. While in the Navy, she pursued and completed a degree in urban agriculture. This solidified her commitment to human health and environmental sciences. During her courses, she quickly realized that a good life and healthy planet begin with good, real food and living soil. Her passion for caring is equally expressed in the way she cares for patients and the way she tends to the soil. To her, soil is the key to unlocking our current climate crisis. As a mother of three small children, owner of a small regenerative living business, and full-time doctoral student of acupuncture and Oriental medicine, she lives to improve lives and encourage net positive habits that will ensure a future for all beings.
A community composting model that reminded us a bit of our own local LA Compost.
Misadventure & Co. is the first company in the world to make vodka from excess baked goods. A San Diego native, Mr. Chereskin developed Misadventure Vodka and started marketing it in June 2017. The vodka is made with baked goods (of all sorts) rescued from food banks after these organizations can no longer use these products to feed San Diego's hungry or food insecure. Misadventure & Co.'s vodka reverses the normal trend of food and agricultural resources becoming less valuable over their life-cycles, and contributes to reducing food-waste in San Diego County. The company is dedicated to continuing to devise innovative ways to bring value-add products and services to San Diego's food systems. Mr. Chereskin is an agricultural economist and agricultural economic development specialist from the University of Chicago.
That's us!
Maen Mahfoud grew up in Syria, and saw the effects of poor access to food nearly every day. When he immigrated to California, he was surprised to find similar disparities within San Francisco. The divide between rich and poor is so stark in the Bay Area. Food is a great way to bridge the gap between income levels in our community and to become more aware of problems in our community. Maen is a graduate of UC Berkeley and Imperial College of London. He is passionate about food waste, food insecurity, empathy and circular economy. Maen is the Founder and CEO @ Replate a technology that matches surplus food from businesses with communities in need. Replate to date has rescued close to a million of high-quality meals for low-income communities in SF, Bay Area, NYC in one year. By 2020 Replate projects to recover 30M pounds of food a year.
Being a first generation American, Reyanne grew up with a two-world perspective. With both parents being refugees from Syria, one foot is planted in her Arabic heritage and the other in the land of opportunity. This in mind, she is determined to make the best of any opportunity that comes her way. She studies Food and Nutritional Science at SDSU, minoring in Sustainability. Starting her own food blog Freshman year, she became fascinated with the plant-based lifestyle and how it can transform our bodies and planet. She is a strong believer that we cannot have healthy food without healthy soil, and we cannot have healthy soil without practicing sustainability. She feels a great privilege to be studying and practicing both. If she is not in the kitchen experimenting with recipes, she is in the mountains rock climbing, in the ocean surfing, or at the park bending into new yoga poses.
Her partner, Krissy Krugman, who currently studies Environmental Science and Psychology at SDSU is also involved!. Raised by a father in the military, she was given the opportunity to travel all over the U.S. and meet people from all over the world. This created a deep desire to connect with people. Entering young adulthood, she became passionate about conserving what we have been given by our planet. Kristian is interested in educating people on how the environmental issues we are facing are most often the results of our own actions and activity, and how the little actions we take and changes we make can help conserve our Earth.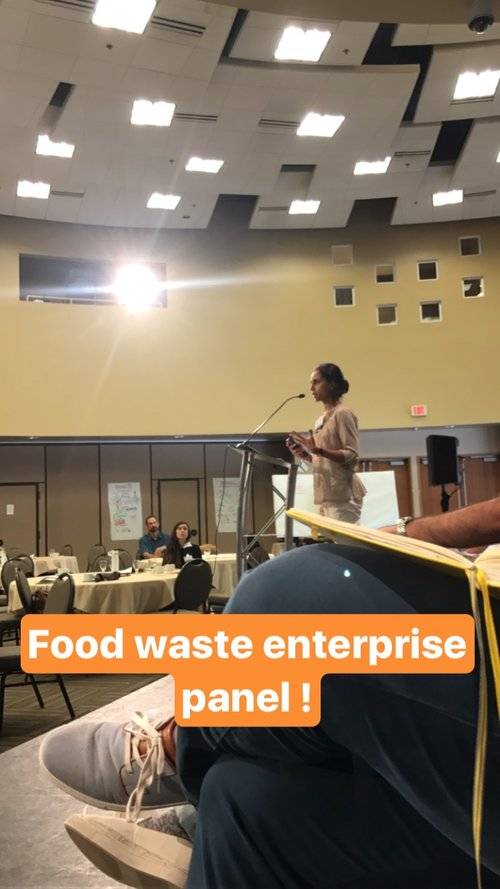 This current venture gives her the opportunity to put those desires to work. Her mission is to bridge the gap between the food-waste and the food-insecure populations. Through this adventure, she has discovered exactly how to channel her passion for helping people help the world.
Our Key Takeaways
The summit was empowering because it showed that each of us, policymakers, foundations, entrepreneurs, governmental agencies, are solving the issue of food waste from their own perspectives and experience. Whether using a science, policy or business lens, we can all collaborate to strengthen our initiatives and compound our collective impact.
We hope you get a chance to check out each of these amazing organizations and learn more about the state of food waste today. Don't forget to be inspired and activated by the work of others - and let us know how we can help support you in your own journey to eliminate food waste in your home! (29 Smart and Easy Tips to Reduce Food Waste - Greatist)