Compost Cake, Guest Recipe by Chloë
Just a few weeks ago, we had the pleasure of connecting with Chloë, the food-waste-fighting-genius behind @nibsetc on Instagram (tagline: #thinkbeforeyoutoss).
Naturally, with a tagline like that, we had much to talk about.
Chloë hosts pop-up events and farmer's market stands where she engages with her community on issues of waste in the modern world, in a time when we are so disconnected with what happens to our discarded scraps. We delighted in her Instagram and Facebook page, which is detailed with colorful photos of her gorgeous creations - most of which are made from ingredients which would have otherwise been neglected.
From her website and her "compost cake" recipe:
See her full list of juice-pulp made recipes here, and next time you have household pulp, #thinkbeforeyoutoss and head to her website for some help coming up with creative ways to use the pulp.
"I love juices. When I'm craving something sweet, when I've eaten too much cake the days prior, when I just need some fruits and veggies and I need them fast, or straight up when I feel like a healthier option. But what pains me, every time, is the amount of food waste juicing produces. And what's worse is that it actually is neither inedible, nor bad for you. So why do we insist on throwing it out, without so much as the blink of an eye? "
Nibs etc. Original recipe. Makes 1 x 25cm (10in) loaf.
3/4 cup Juice Pulp
1/4 cup Buttermilk
1 Egg
1/4 cup Maple Syrup
1 tbsp Olive Oil (+ extra for prepping the tin)
1/2 cup Ground Almonds
1/2 cup Shredded Coconut (unsweetened)
1/4 cup All Purpose Flour
1 tsp Baking Soda
1 tsp Baking Powder
Pinch Salt
1 tsp Ground Cinnamon
1/4cup Hazelnuts
1/4 cup Raisins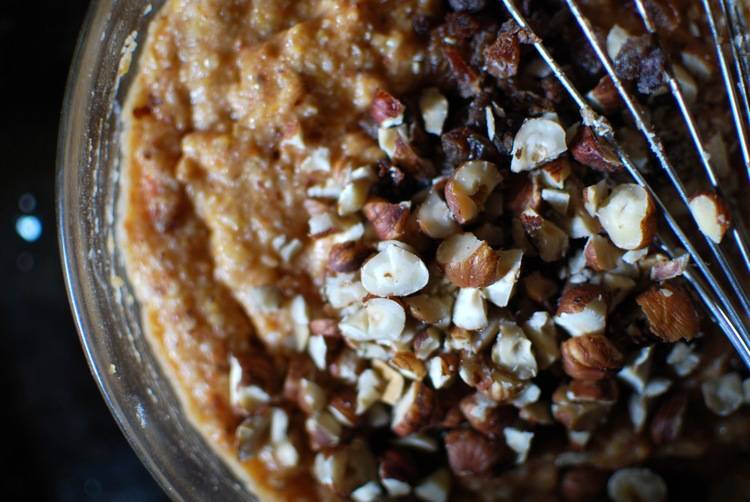 Preheat your oven to 350F/180*C/170*C Fan.
Oil and flour your cake tin – I used a 25x11cm (10x5in) loaf tin.
Into a mixing bowl, break and beat your egg. Add the maple syrup and olive oil, and mix until combined. Then add the Juice Pulp, and stir until just incorporated.
Next, add your dry ingredients: almonds, coconut, flour, leavening agents salt and cinnamon. Mix until fully incorporated.
Roughly chop your hazelnuts to desired size, and add to the batter. Then rough chop your raisins, toss with a pinch of flour (which will prevent them from sinking to the bottom of your cake as it bakes), and toss into your mixing bowl. Carefully fold until well distributed throughout the batter.
Pour into your mold and bake in the centre of your oven for 35-40 minutes, until nicely golden brown, and toothpick comes out clean (if it starts to turn quite dark around the edges, cover with a sheet of foil, and continue to bake as normal.
When ready, remove from the oven, place on a wire rack, and allow to cool almost completely.
Once cooled, turn out, plate with the loaf crust on top, and serve.
The cake will keep up to a week, covered and at room temperature, or sliced and frozen for a month or two (toast/microwave/pan sear to reheat).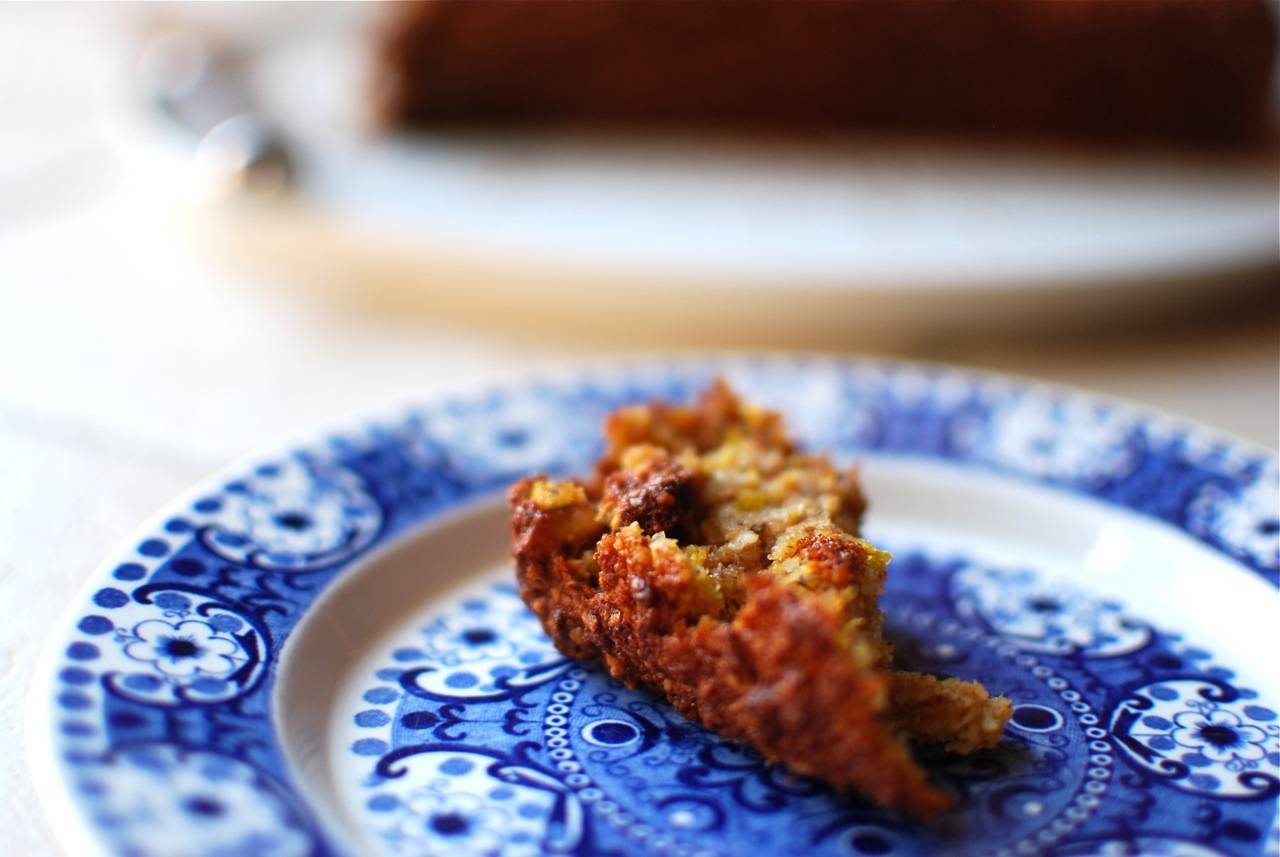 For breakfast, elevenses, lunch, afternoon snack, dinner, dessert, and any other meal time you can think of.
Toast a slice or pan sear it with a touch of butter, turning it into your new favourite breakfast toast.
Topped with: yoghurt (greek, skyr, quark, plain, flavoured) + drizzle of honey, yoghurt + granola, yoghurt + fresh berry compote/jam, yoghurt/ricotta + fresh/poached peaches, little salted butter and jam. The possibilities are literally endless.
Substitute hazelnuts with walnuts, almonds, peanuts.
Substitute raisins with cranberries, dried figs, dried apricots.
Use a savoury juice pulp + an extra 1/4 cup brown sugar.
Or, DON'T add the extra sugar and make it a savoury loaf! Toast (or not, as you prefer), top with: mashed avocado + soft boiled egg, salted butter + thinly sliced radishes, ricotta + prosciutto - note: I can't say I've actually tried this yet... however. My mouth just watered while writing this, so I can say with 100% certainty that I will be trying it as soon as I get my hands on some savoury juice pulp.
"Bestovers are the way forward. They have to be. Thus, here it is. My Compost Cake. Yes it just so happens to be filled with nutritious ingredients and wonderfully healthy which means you can shamelessly eat it at any and all times of the day. But it is also, absolutely delicious (if I do say so myself)."